Prep 30 mins
Cook 30 mins

Curry and chicken are rolled up in a thin, tender crepe and refridged so can be made a day ahead as not to fuss with guests!!!!
Directions
For crepes, combine all-purpose flour, the 1 cup milk, egg, butter, salt, and pepper.
In a blender mix well.
Spray a 6-inch skillet with nonstick spray coating.
Preheat skillet; then remove skillet from heat.
Pour in 1-2 tablespoons batter.
Lift and tilt skillet to spread batter.
Return to heat; brown on one side only.
Invert skillet over paper towels; remove crepe.
Repeat with remaining batter.
For filling, spray a cold medium saucepan with nonstick spray coating.
Heat saucepan over medium heat.
Add onion and garlic.
Cook until onion is tender, stirring often.
Add brown sugar, turmeric, and curry powder; cook and stir for 1 minute more.
Then, stir in condensed soup and the 3 tablespoons milk.
Add chicken and potato.
Remove from heat.
Remove 3/4 cup of the soup mixture; cover and chill.
To assemble, spoon some of the chicken mixture onto the unbrowned side of each crepe.
Roll up.
Place filled crepes, seam side down, in a 13x9x2-inch baking dish sprayed with Pam.
Cover and chill for 2 to 24 hours.
Before serving, stir the reserved soup mixture.
Spoon soup mixture on top of filled crepes.
Cover and bake in a 350 degree F.
oven about 30 minutes or until heated through.
If desired, cilantro and yogurt!
Most Helpful
This was such an easy meal - I used up some chicken from the previous night's roast. The only alterations I made were to add some finely chopped carrots as I was worried that the kids wouldn't like the mushroom soup. Anyway, the whole family loved this meal which is testament enough and making it ahead is such a great idea! I will definitely make this again!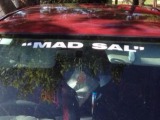 Sorry Rita, wish I could give this more stars. This dish really wasn't to my liking as much as I had hoped. DH liked the chicken and onion mix but didn't care for the crepes. I had to agree. The crepes were very bland and mushy and too flour tasting. I always try to give a recipe two tries. Next time I think I will make my crepes (recipe not posted yet) and add cilantro to the batter before making the crepe (My recipe for crepes is a little different). We didn't serve cilantro or yogurt with the meal so maybe that could be some of the problem. However, I liked the flavor of the curry and turmeric, and the color of the food was bright yellow (I took a picture and will post shortly). Next time I think would like to add fresh chopped mushrooms to help break up the onions and chicken a bit. There just wasn't enough mushrooms from the soup.

FYI turmeric does stain!