Curried Chicken Chutney Salad
BecR2400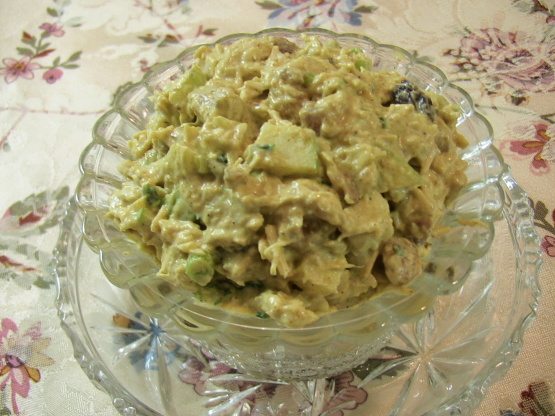 A great ladies luncheon salad this tangy spicy chicken is a will awaken your taste buds...and it's quick and easy to prepare and serve!

Top Review by MaryMc
Good stuff!! I did make a few changes--substituted cashews for the walnuts, and added about 1/2 cup raisins and 1 cup finely-chopped celery. I also increased the curry powder to 1 tablespoon--I like a LOT of flavor! This recipe makes a large amount of dressing--I used about 2-1/4 lbs. boneless, skinless chicken thighs, and next time I think I'll use a little more (as much as 3 lbs.) I made most of it the day before, and added the apple, celery and cashews at the last minute so they'd still be crunchy.
Cook chicken breasts in chicken broth on stovetop until tender.
Remove chicken from broth, cool and cut into cubes.
In a large bowl, mix all the ingredients together.
Chill and serve.