Curried Chicken and Vegetables
Noo8820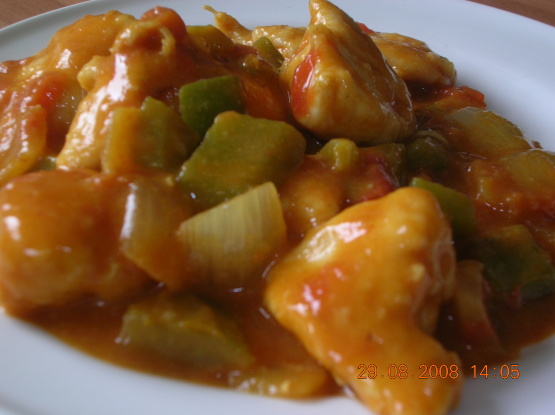 Another recipe found in grandma's recipe box.... This is from a magazine, but not sure which one.....

This is a great way to eat curry if you don't have the time or the inclinaton to mess about with fresh spices.I loved the fact that the chicken was coated first,it gave an added dimension to the dish.The sauce was thick and satisfying with good flavour and spice.Next time, I think that I would add some part cooked diced potato,as I love curried potato,and it also makes it go just that little bit further.A good dish that was oh so simple to put together.Thanks.
Pull skin from chicken breasts and remove the bone.
Flatten each half by placing between 2 pieces of wax paper and pounding with the back of a heavy knife or mallet.
Cut each half into two pieces to make fillets.
Combine 1/4 cup flour, 1/2 tsp salt and 1/8 tsp pepper in plastic bag.
Add chicken to bag and shake well to coat chicken.
Melt butter in a large skillet. Suate chicken until brown on both sides.
Remove from skillet.
Saute onion and green pepper until almost tender in same skillet.
Stir in the 1 tbs flour, 1 tsp salt, 1/8 tsp pepper and curry powder.
Add tomatoes, instant broth, and water.
Bring to a boil, then lower heat and simmer covered for 20 minute.
Remove cover and simmer 5 more minute or until sauce thickens.
Return chicken to sauce and cover. Simmer 15 minutes longer or until chicken is tender.