Curried Cauliflower or "gobi Gobi"
phopot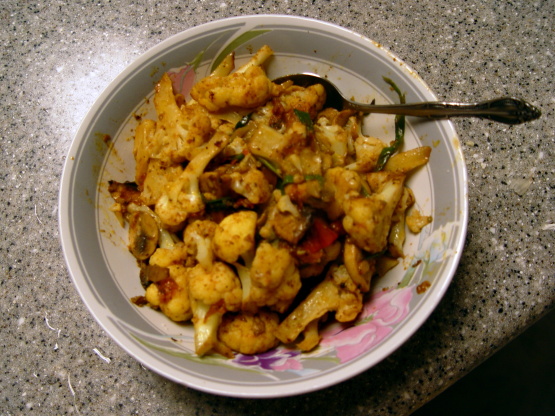 this is kind of a reinterpretation of the classic aloo gobi, only not by the braise process. because the cauliflower emits so much water, it doesn't need to be braised but somewhat steamed for a lighter crisper texture.

Curry and cauliflower is a great combination! I used just a little oil and added some broth to steam the veg. It came out very well, though next time I might add a few more tomatoes. I used about a teaspoon of curry powder and garam masala, and then a few dashes of the other spices, which was a perfect blend for us. Thanks!
heat up enough vegetable oil to cover the bottom of the pan and heat until very hot.
saute mushrooms and garlic with some cumin.
add the cauliflower, tomatoes, salt, and curry powder. mix well and cover.
check and stir every now and then.
taste and adjust seasonings if necessary. turn off heat when the cauliflower softens and tomatoes have reduced to sauce.
add garam masala, black pepper and cilantro. mix well and cover until serving, at least 5 minutes.