Curried Beef Short Ribs (Slow Cooker)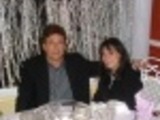 Now you can have an intensely-flavored exotic meal on the table with very little effort! The lime zest and lime juices brighten the rich flavors, too.
Directions
Heat oil in a large nonstick skillet over medium-high heat. Sprinkle ribs with 3/4 t. salt and 1/8 t. pepper. Add half of the ribs to pan; cook 2 minutes on each side or until browned. Place ribs in an electric slow cooker or crock pot. Repeat procedure with remaining ribs.
Add shallots, garlic, and ginger to skillet; saute 2 minutes. Stir in 1/4 cup water and curry paste; cook 1 minute. Stir in coconut milk, sugar, and fish sauce. Add coconut milk mixture to cooker. Cover and cook on LOW for 6 hours.
Remove ribs from cooker; keep warm. Strain cooking liquid through a colander over a bowl; discard solids. Place a zip-top plastic bag inside a 2-cup glass measure. Pour cooking liquid into bag; let stand 10 minutes (fat will rise to the top). Seal bag; carefully snip off 1 bottom corner of bag. Drain drippings into a small bowl; stopping before fat layer reaches opening; discard fat.
Stir in remaining 3/4 t. salt, remaining 1/8 t. pepper, zest, and juice.
Shred rib meat with 2 forks; discard bones. Serve sauce over ribs and rice.
Reviews
Most Helpful
My son made this for my birthday dinner. Awesome!! Even better the next night, as we were able to remove much more of the fat after overnight refrigeration.
I love this dish! I used pork ribs (cheaper) and they came out tender and flavorful. Next time I'll adjust to make more of the sauce, my hubby really enjoyed it. I will definitely make this again and again and again and again!
This is so flavorful! I made this a few years ago and absolutely loved it, then forgot about it for a while. When I saw short ribs on sale at the store it popped back into my head and I knew I had to make it again! YUM. I'm kind of a spice wimp but I think this level of spice is nice. I used less than 2lbs of ribs the second time and should have cut down on the cooking time - after 6 hours they were very well done. Served with cilantro on top and a squeeze of lime with bok choy on the side. Can't wait to make it again!