Cumin-Spiced Pork With Avocado-Tomatillo Salsa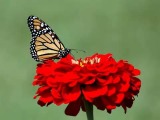 Recipe is from Cooking Light magazine. The lemon juice in the salsa keeps the avocado green. Pile the sliced pork and salsa on warm flour tortillas and roll them up for soft tacos, if preferred.
Directions
Preheat oven to 425 degrees F. To prepare pork, combine first 5 ingredients and rub over pork. Place pork on a jelly roll pan. Bake at 425 degrees for 25 minutes or until a thermometer registers 160 degrees F. (slightly pink). Let the pork stand 5 minutes before slicing.
To prepare salsa, discard husks and stems from tomatillos; place in a medium bowl. Add avocado with remaining ingredients; toss well.