Ms B.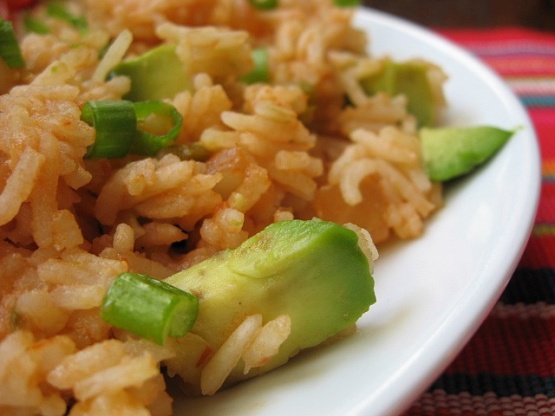 A colorful, healthy side dish for any meal. Chopped cilantro would be a great addition! This is from Light & Tasty's Feb/March 2005 issue. I haven't tried it yet, but I think it would be really good with burritos or fajitas.

This was a very tasty lunch. I also used pre-cooked brown rice and added fresh tomato at the end. Fresh ground pepper and hot sauce added the finishing touch! Perhaps I will try adding black beans the next time we have this. Thanks for posting!
Bring water to a boil in large saucepan.
Add butter, bouillon, and cumin, and stir until butter is melted.
Add rice and reduce heat; cover and simmer for 20-25 minutes or until rice is tender.
Stir in picante sauce and heat through.
Stir in avocado and onions just before serving.