Cumin Potatoes and Tomatoes
Susie D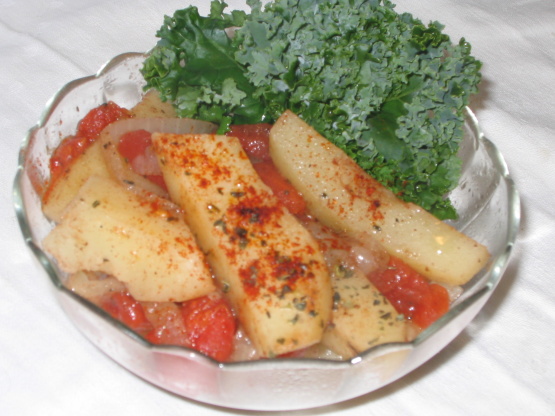 This well-flavored dish nicely accompanies roasted fowl or meats. I would describe the flavor as mildly Middle-Eastern. NOTE: 600 g potatoes equals about 8 medium potatoes, and it is best if you can use potatoes of roughly equal size. If you must use large potatoes, quarter them.

Very easy to prepare & a different side dish for my family. I personally found the cinnamon flavor a little distracting and would reduce the amount next time. The dish had an unexpected sweetness. I also guessed at the oven temps as I am not familar with C temps. I baked at 375 & then reduced to 350. The dish was still a little watery after that length of time, although the potatoes were tender. I am glad I tried the recipe. Thank you for sharing your recipe!
Pre-heat oven to 200°C.
In a large mixing bowl, mix (with your hands) the potatoes, onion, cumin, cinnamon, oil, salt and pepper.
Spread this mixture evenly in a baking dish (I use a 20 cm by 26 cm).
Pour the crushed tomatoes and any juices over the potatoes.
Pour water into the pan.
Cover with foil and bake for 45 minutes.
After this time, reduce oven temperature to 180°C, remove foil and bake an additional 30 minutes until the potatoes are tender and the sauce has thickened.