Cumin-Pepper Flank Steak With Horseradish Chimichurri
JustJanS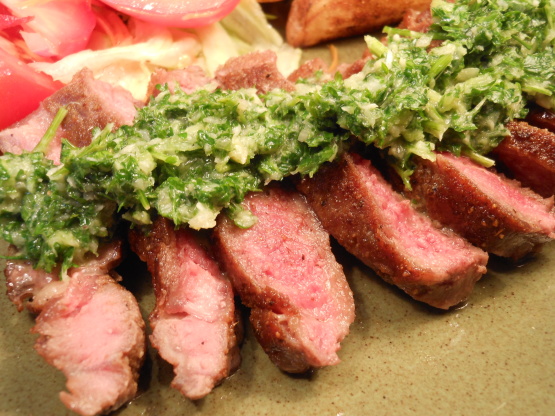 Recipe taken from the Best of Cooking Light magazine. I like the idea of the prepared horseradish along with the typical Argentine Chimichurri. The steak is sliced thin and served with the sauce on the side. Steak can be grilled in a pan or on a grill.

What a wonderful and delicious recipe! I made this a couple of weeks ago (when I was under some time restraints), and it was excellent. I had every ingredient on hand, and it was so simple and quick to whip up. I followed the recipe to the letter. The seasoning on the steak was great (who doesn't love cumin, right?). This was the first time I've made homemade chimichurri, and it will not be the last. Hubby and I loved this dish. Thank you so much for posting. It will be a regular around our house. (Made for PRMR)
To prepare Chimichurri: Combine first 8 ingredients in a food processor; process until smooth. Transfer sauce to a small bowl; set aside.
To prepare steak, rub steak with cumin, 1/2 teaspoons salt, and black pepper. Heat 1 teaspoons oil in a large nonstick skillet over medium-high heat. Add steak to the pan; cook 3 minutes on each side or until desired degree of doneness. Remove steak from the pan, and let stand for 5 minutes. Cut steak diagonally across grain into thin slices. Serve with chimichurri .