Cumin Get It Chicken Soup
Nif_H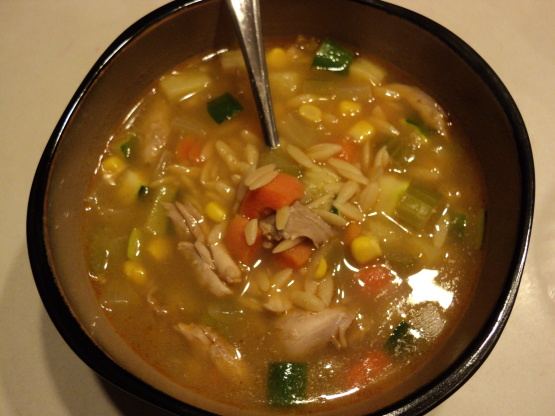 Cooking the chicken in the broth and using dark meat gives you a richer soup and more flavor. The cumin and chilli powder in this soup add a punch of taste and fill the house with a wonderful smell! I prefer using orzo pasta, but you can use any other soup pasta that you prefer. I overlapped the directions and had a complete dinner in less than 30 minutes!

This was a good soup! My whole family enjoyed it, with Recipe #348192 on the side. We used chicken thighs for our meat, I really enjoyed having the dark meat in there. We also used shallots instead of onions (due to onion allergies). We'll likely make this again sometime! Thank you Nif!
In a large pot, heat half of the oil over medium heat. Add drumsticks, turn and brown on all sides, approximately 5 minutes.
Meanwhile, heat remaining oil in frying pan over medium heat. Add carrots, celery, onion and garlic. Saute until slightly soft, about 5 minutes. Add cumin and chilli powder, stir to coat vegetables and let spices toast for a couple of minutes and turn off heat.
In chicken pot, add 6 cups of broth and be sure to scrape any chicken bits from the bottom of the pot. Bring to a boil, reduce heat and simmer drumsticks for 10 minutes. Remove chicken with tongs to cool and skim any foam off the top of the broth.
Add remaining 2 cups of broth to frying pan, to help spices release from the pan. Scrape bottom of pan and pour contents into large pot. Add orzo and zucchini and bring to a simmer for 10 minutes.
Remove chicken meat from drumstick bones. Be sure to remove the hard rubbery bits that can be found at the end of the tendons. Cut meat into large chunks. Add meat and corn to soup and simmer until heated through and orzo is cooked to your liking.
Add salt and pepper if you prefer but we found that it really didn't need it.