Cumin-Crusted Salmon With Guacamole
Drazen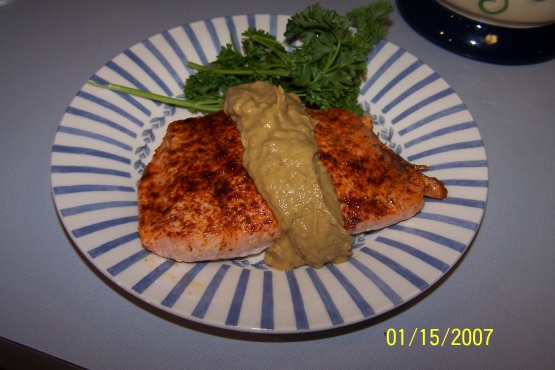 This is a favorite in my house. The recipe came from the Feb/March 2005 Cooking Pleasures magazine.

The concept of this recipe is very good, however, there is way to much cumin -- it over powers the salmon. I love cumin, but would reduce it to about 2 teaspoons. This would also taste great flaked in a salad with a mexican ranch dressing. I will make it again, but with modifications.
Heat oven to 425 degree. In a small bowl, stif together cumin, salt and pepper. Sprinkle over salmon.
Heat oil in large ovenproof nonstick skillet over medium-high heat until hot. Add salmon and cook 2 min or until brown. Turn and then place in oven. Bake 5 to 8 mins or until salmon just begins to flake.
While salmon is baking, mash up the avocado and mix it in with the salsa.
When the salmon is done, remove from oven and top with guacamole.