Cumin Coriander Crusted Salmon
Kitty Z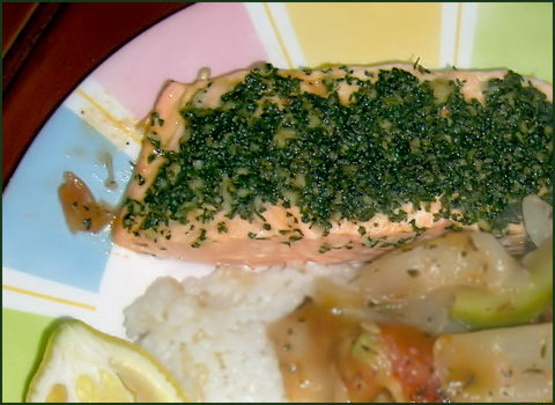 When I saw this recipe in the March issue of Cooking Light I knew that this would be a hit....I was just suprised on how much! My DH and DD are not keen on cilantro, but they were really impressed with this recipe. It is fast, easy and I would definately serve this to company. I served this with garlic scented brown jasmin rice and roasted beets. Devine!!!

Top Review by Kohtzy
This was wonderful! We mixed the spices just as directed, but used it all on 2 5oz salmon fillets. We also didn't have time to marinate, so we mixed it up, topped the salmon and baked. The flavor was excellent! I'm sure marinating would make this recipe even better, but it's nice to know that we can still make this even if we're short on time. Thanks Abby Girl - we'll make this one often!!
Combine cilantro shallots, oil, cumin, coriander, salt and pepper in a small bowl, stirring to form a paste. (can be made ahead of time).
Place fish, skin side down, in a shallow baking dish. Coat with cilantro mixture. Cover and refrigerate for 1 hour.
Preheat oven to 400.
Arrange fish on the rack of a roasting pan coated with cooking spray. Bake at 400 for 10 minutes or until fish flakes easily when tested with a fork or until desired degree of doneness.
Serve with lemon wedges.
Note: The recipe called for 2 tsp oil, but with the fish being as oily as it is, you can get away with 1 teaspoons.