Rita1652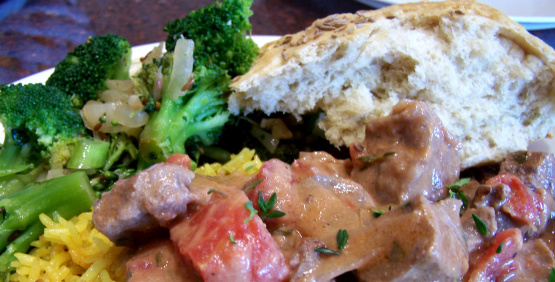 Braii is the name for a traditional South African barbecue, where this flavorful bread would be served as part of an elaborate feast including grilled meat, salads and ginger beer. Another great recipe from "the Soul of a New Cuisine: A Discovery of the Foods and Flavors of Africa." Cook time includes rising time.
Combine the cumin and ginger in a small saute pan and toast over low heat until fragrant, about two minutes. Set aside to cool.
Combine the yeast, brown sugar and warm water in a small bowl, stirring to mix. Let sit until the yeast begins to bubble, 5-10 minutes.
Combine the flours, toasted spices and salt in the bowl of a stand mixer. Pour in the yeast mixture and mix on low speed with the paddle attachment until well-combined. With the mixer running, pour in the butter and mix until well-incorporated. Switch to the dough hook and knead the dough until smooth and elastic, about seven minutes.
Transfer the dough to an oiled bowl and turn to coat. Cover with a damp cloth or oiled plastic wrap and let rise in a warm, draft-free spot for 30-45 minutes, until almost doubled in size.
Punch down the dough and cut it in half. Shape each half into a ball. Spray a baking sheet with cooking spray or grease it. Place the dough on the baking sheet, cover with a damp cloth or oiled plastic wrap, and let sit in a warm place for another 30 minutes.
Preheat the oven to 350 degrees. Brush the tops of the loaves with the egg wash. Bake for 30 to 35 minutes, until the loaves are golden brown and sound hollow when tapped.