Cultured Carrots and Baby Turnips
Rita1652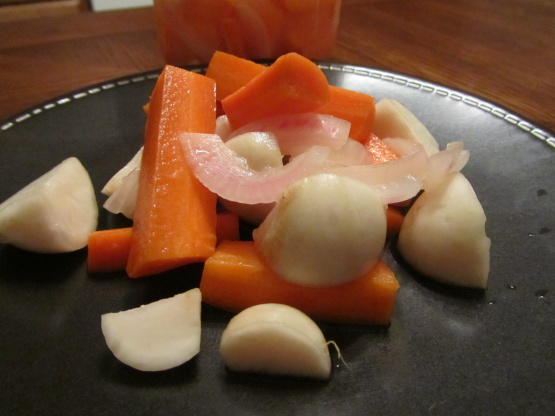 Healthy Raw Cultured Veggies Fermented making this rich in probiotics, enzymes, vitamins and minerals. This is just too easy to prepare why not make them? This is a great side to any meal helping digestion.
2

cups organic baby turnips, quartered

3

organic carrots, cut into 1/1/2 inch pieces

1

small organic red onion, peeled, and sliced

1

tablespoon ginger, rough chopped

1

tablespoon sea salt

4

tablespoons whey (if not available, use an additional T of sea salt)

1

cup filtered water, plus more if needed
Mix vegetables and place in a quart preferably a wide-mouth mason jar. Press down lightly.
Mix water with salt and whey and pour over vegetables, adding more water if necessary to cover the turnip mixture.
The top of the vegetables should be at least 1 inch below the top of the jar–if it's higher, remove some of the vegetables. Cover tightly and keep at room temperature for 3 days before refrigerating.
They're ready now, but will taste much better after at least a couple of weeks in the fridge.