Cullen Skink - Scottish Smoked Haddock and Potato Soup
Peter J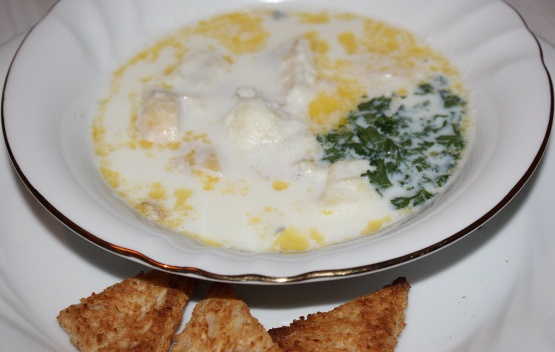 The name of this rich, tasty soup comes from the fishing village of Cullen, in Morayshire in Northern Scotland. "Skink" is a soup made originally from a shin of beef - in fact the word "skink" means soup or stew - but in this case, the main ingredient is smoked haddock with potatoes and onions. Finnan haddock is often called Finnan haddie, and is the traditional ingredient in the famous Edwardian breakfast dish of Kedgeree. Cullen Skink is sometimes called Smoked Haddock Chowder when served in bistros and restaurants. We love to serve this delicious soup as an elegant and comforting starter for our Burns Night Tribute Supper; this is also a wonderful soup to be served as a main course - with crusty bread and butter.

This was outstanding! A lot of local smoked fish seems to have colouring added which I didn't think would suit the recipe so I went to the fish market and bought a nice haddock fillet and hot smoked it myself, reserving the juice that came off during smoking for the stock. I spent all of that 15 minute simmering time in the kitchen taking up the wonderful aroma! I used the exact amount of mashed potato you posted and found it spot on, rich and creamy without being too thick.
Cover the smoked haddock with water, in a shallow pan, skin side down. Bring to the boil and simmer for 4/5 minutes, turning once.
Take the haddock from the pan and remove the skin and bones.
Break up the fish into flakes, return to the stock and add the chopped onion, bay leaf, salt and pepper.
Simmer for another 15 minutes. Strain, remove the bay leaf but retain the stock and fish.
Add the milk to the fish stock and bring back to the boil.
Add enough mashed potato to create the consistency you prefer (don't be afraid to make it rich and thick!).
Add the fish and reheat.
Check for seasoning.
Just before serving, add the butter in small pieces so that it runs through the soup.
Serve with chopped parsley on top, accompanied by triangles of toast.