Culinary Quest Chive-Corn Muffins
diner524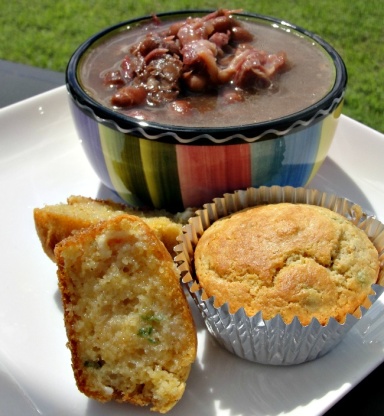 Posted for the Cornbread is King Challenge

Really lovely cornbread muffins. I went just a bit heavier on the chives as mine are growing insanely this year. I think they are planning a coup to take over the yard! But I digress, the recipe took just a few mins to put together and they are delicious. Perfect with grilled chicken and a light fruit salad. Well done Jackie. Made for Cornbread is King,Part 2.
Preheat oven to 400 degrees and spray 12 muffin-pan cups (about 2-1/4 inch size) with nonstick cooking spray.
Combine cornmeal, flour, baking powder, sugar and salt in a bowl and set aside.
Combine milk, egg, chives, and butter in a bowl; pour all at once into the cornmeal mixture, stirring with a fork only until blended.
Spoon about 2 T. of the batter into each muffin cup; bake until lightly golden - about 20 minutes. Serve warm.