Kim D.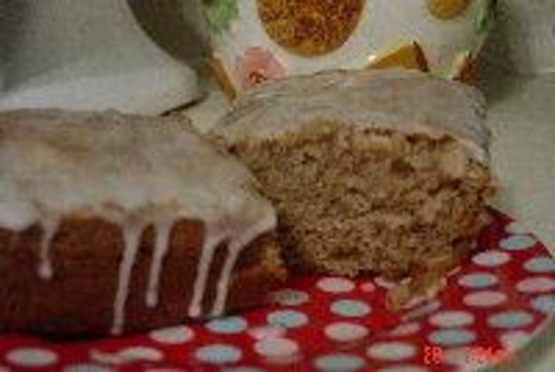 My Aunt Mae used to grow cucuzza's in her back yard when I was a little girl. Cucuzza is a long, green squash. She normally fried them up and served them with spaghetti every Sunday. I recently found this recipe for cucuzza cake. I made it last weekend and my family loved it... even the picky kids! My husband ate almost a whole cake for breakfast and asked me to bake some more! I guess I will be making this cake often! The original recipe said to bake for one hour, but my cakes were done at 45 minutes.
I baked this cake with a small portion of our large cocuzza crop grown this summer. My family really enjoyed it. Nothing leftover. I will make again but may add more spices to the batter and reduce the sugar and some oil. Will add some nutmeg perhaps 1/2 tsp ginger or 1/2tsp allspice in next batch. Will post the results.
Preheat oven to 350 degrees F.
Sift flour, cinnamon, baking soda and baking powder together and set aside.
Beat eggs with sugar, oil and vanilla.
Add flour mixture to egg mixture, mix well.
Add grated cucuza (skin, seed and all), orange zest, pineapple and pecans.
Mix well.
Divide batter into 2 greased loaf pans.
Pan should be about 1/2 full.
Bake for 45 minutes, or until cakes test done.
Let cool for about 10 minutes.
Mix all icing ingredients together, using enough milk to get a smooth, spreadable icing.
Remove cakes from pans and glaze tops of cakes while warm.