Another recipe I found on-line while searching for South Africa recipes to post for ZWT.
Directions
For the dressing: Dissolve sugar in hot water then blend with the vinegar, salt, and peppers. .
Arrange in alternate layers: 2 medium CUCUMBERS, scored with a fork, not peeled but sliced very thinly and 2 medium ZUCCHINI, raw, same size as cucumbers, prepared the same way.
Drain any water formed from cucumbers before adding the dressing.
Allow vegetables to marinate in the dressing at least 1 hour before serving.
Serve with meat, fish, or poultry.
Reviews
Most Helpful
Summer is here! What a great garden recipe. Very simple to make and it tastes great too. I used honey in place of sugar and cut the red pepper flakes in half. Will be making again. Thanks, diner524!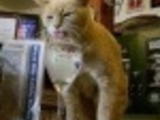 I loved the mix of cukes and zucchini. I used yellow and green squash and threw in some parsley and trader joe's 21 seasoning spice mix. These hold up quite awhile in the fridge. Thank you made for ZWT 7.

Very refreshing and easy to make. Liked the little amount of heat from the pepper. I doubled the amount of the marinade and drained before serving. Made for the Vivacious Violets for ZWT7.