Cucumber Yogurt Dip With Greek Pita Chips
jenne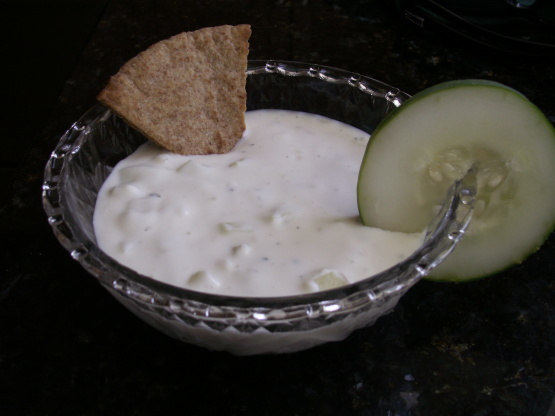 This is an easy delicious recipe adapted from Semi-Homemade Cooking with Sandra Lee. Great for parties, or hanging out!

I am giving this five stars because of the pita chips. The yogurt dip was fine but nothing far from normal. I used organic English cucumber unseeded, organic unhomoginised yogurt but no sour cream as I have only found it with corn starch which we avoid, freshly squeezed organic lemon juice, home-made Greek seasoning, grey sea salt, a perfect salt, organic good quality olive oil in place of cooking spray, plus the rest of the ingredients. Served with recipe#99564 and a fresh organic salad. I would use this idea again.
Yogurt Dip

1

medium seedless cucumber (or regular cucumber that has been seeded)

1

cup plain yogurt

1

cup low-fat sour cream

1

tablespoon lemon juice

1

tablespoon all purpose Greek seasoning, plus

2

teaspoons all purpose Greek seasoning, divided (store bought or homemade)
salt & freshly ground black pepper

4

whole grain pita
cooking spray
Yogurt Dip:.
Cut the cucumber in half lengthwise and grate into a medium mixing bowl. Add yogurt, sour cream, lemon juice, and 1 tablespoon Greek seasoning. Stir to mix well.
Season with salt and pepper to taste.
Refrigerate for at least 1 hour.
Serve with the toasted pitas chips.
Pita Chips:
Preheat oven to 350 degrees F.
Spray baking sheet with olive oil cooking spray(or use olive oil on a piece of paper towel and wipe over baking sheet); set aside.
Cut each pita bread into 8 triangles.
Place on baking sheet, in a single layer. Lightly spray with cooking spray and sprinkle with remaining 2 teaspoons Greek seasoning.
Bake for 10 minutes. Remove from oven; let cool. Enjoy!