skat5762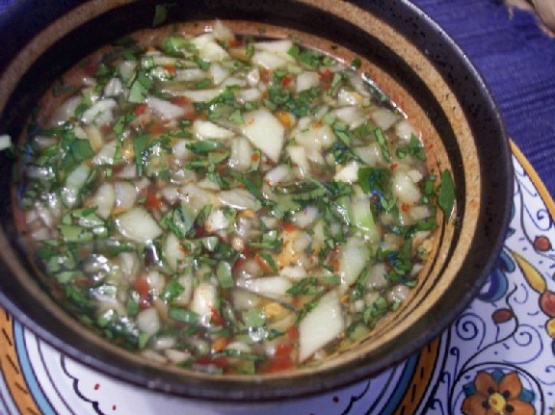 This is THE classic sauce in which to dip many Thai or Vietnamese snacks, especially fried or roasted foods such as corn cakes, garden rolls, spring rolls, etc. One of my daughters makes this all the time and I finally wheedled the recipe out of her.
Top Review by Tom R.
I originally skipped past this recipe a couple of times based on the picture, which appears to show onions. The sauce I was trying to make is a favorite in Vietnamese restaurants, and does NOT have onions. Upon closer examination, I discovered this is, indeed, the correct recipe. Not sure why the picture makes it look like onions, though? Perhaps just a very pale cucumber?
Combine the first three ingredients in a small pan over medium heat and heat gently until sugar is dissolved and chili paste is thoroughly mixed.
Remove from heat and pour into a bowl.
Allow mixture to cool to room temperature.
Stir in the coriander and the cucumber and serve immediately.
Or, store in a well-sealed container in the refrigerator for as long as four days.