Bergy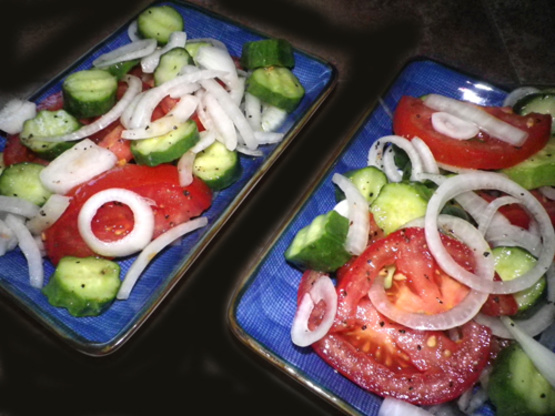 This is a little different from the other salads of this kind that have been posted as it uses rice vinegar. We really enjoy this light salad, espeically during the summertime. This also fits into South Beach Phase 1 and I believe even the Adkins/low carb diets as well.

Top Review by MJRat
I was not a huge fan of this. I am wondering if there is a typo with the Splenda. 3 Tablespoons was WAY too much! Maybe teaspoons. I taste-tested it while I was putting all that Splenda in there, in when I got to 1 1/2 tablespoons, I quit. I think with less sugar substiute and maybe a splash of balsamic it would be not as sweet.
Combine vinegar and sugar.
Add cucumbers, tomatos and onions.
Season to taste with salt and pepper, mix well.
Refrigerate, covered at least 30 minutes before serving.