Cucumber, Tomato, and Pineapple Salad With Asian Dressing
Ms B.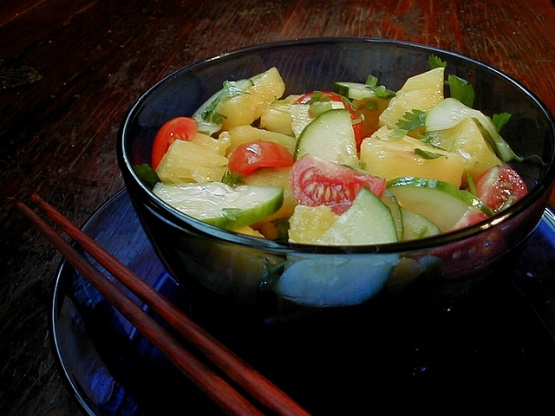 Adapted from Epicurious.com and originally published the June 2006 issue of Gourmet magazine. This Vietnamese-inspired salad combines sweet pineapple and fiery serrano with cooling cucumber. This is a great side for RiffRaff's Grilled Vietnamese Chicken (Grilled Vietnamese Chicken).

Yummo!!! Just threw this together at the last minute and - what a great salad! It was super easy and super fresh. Went a bit heavier with the fish sauce because we like the flavor, and used regular tomatoes because we can't get cherry tomatoes here. This is the most wonderful blend of flavors!!!
1.23

ml salt

29.58

ml lime juice, fresh

14.79

ml sugar

29.58

ml vegetable oil

1

serrano peppers or 1 jalapeno chile, minced, including seeds

1.23-2.46

ml fish sauce

1

seedless cucumber, halved lengthwise, then thinly sliced crosswise (often plastic-wrapped)

1

fresh pineapple, peeled, quartered lengthwise, cored, then sliced crosswise 1/4 inch thick (2 cups)

118.29

ml fresh cilantro, coarsely chopped

473.18

ml cherry tomatoes, cut into quarters
Mince garlic, then mash to a paste with salt using side of a large heavy knife.
Whisk together lime juice and sugar in a large bowl until sugar is dissolved, then whisk in oil, garlic paste, chile, and fish sauce (to taste).
Add remaining ingredients, tossing to coat, and add salt to taste.