gailanng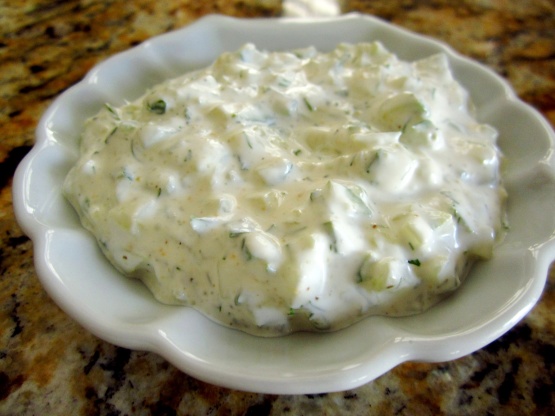 I tried different sauces but didn't find the taste I was looking for so I threw some stuff together and I was very happy with the results. If you try it and tweak it, let me know. I edited the recipe after reading the great suggestions.

I just tried this sauce to go with some gyros I made and it is really a wonderful sauce. I am leaving a review because I wanted to share a tip for the sauce that I ended up using. Being that it is winter, I could not find a decent cucumber in our local store, but I do grow the herb called "salad brunet". It is not a well known herb, but when it is fully mature, the leaves, that look like parsley, taste like cucumbers. I substituted 1/4 cup of the chopped leaves instead of the cukes and no one could tell it did not have real cukes in it!!! I think this is a great substitution until I can get the garden up and running again, as I do like the chunkiness of real cukes.
Put the cucumber into a colander and sprinkle with a little salt.
Let rest for 10-15 minutes to allow extra juices to escape the cucumber.
Gently squeeze the cucumber in a paper or cloth towel.
Put everything a bowl and mix well (I don't rinse the cucumber).
Add salt and pepper to taste.
Refrigerate for a couple of hours prior to using (if you have time).
A turn or two in the food processor would yield a nice smooth sauce.
Good on anything, especially Gyros.