Cucumber Sandwich Filling
LUv 2 BaKE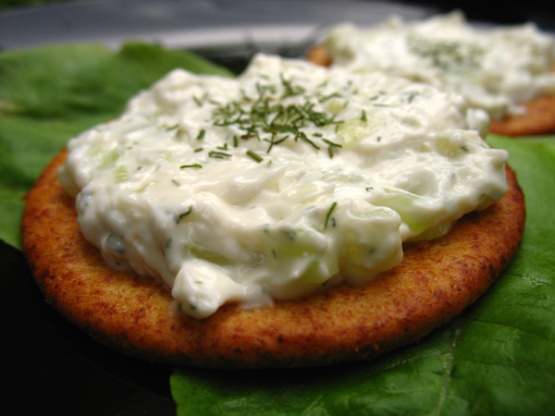 Creamy cucumber filling for sandwiches that is wonderful. The dill and garlic give it pizazz. This can also be used for an appetizer if used on the party rye bread.

Oh man, this makes the best cucumber sandwhich I have ever tasted. I've been wanting to find a good recipe since I had a cucumber sandwhich from this pastry shop. This recipe beats the other one hands down. I love the creaminess of the filling. The only thing I changed was that I shredded my cucumbers. I would highly recommend this recipe to anyone! From now on, I will make sure to have all these recipes on hand for when I get a craving for a cucumber sandwhich. Thanks for this awesome recipe!
Press the cucumber through a colander to remove excess moisture.
Process cream cheese and mayonnaise in a blender or food processor until smooth.
Combine mixture, cucumber, dill and garlic salt chill until ready to use to allow flavors to blend.