Cucumber Salad (Turkish Cacick)
Derf2440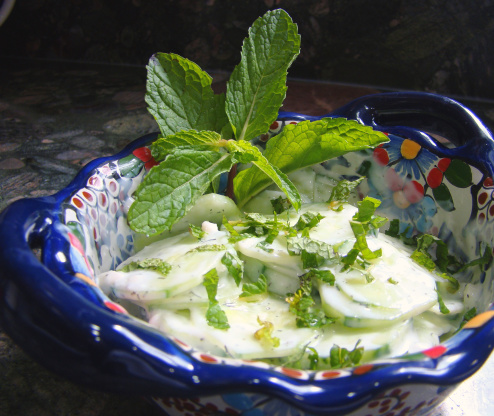 This is a far better use for a cucumber than a lettuce salad. I have visited Turkey, the country of origin for this recipie, and find that this recipie is in keeping with the great tastes that Turkey has to offer in food preparation.

YUM !! what a lovely crunchy find!! Just made about a quarter recipe, wish I had made more, we loved it, very tasty dressing with the mint, didn't drizzle the olive oil, didn't feel it needed it. The best part is how lovley it crunches!! thenks for posting, I will be make often!!
In a bowl combine garlic, vinegar, salt, dill,and yoghurt and mix well.
Blend cucumbers with yoghurt mixture and refrigerate for an hour or so.
Serve sprinkled with olive oil and mint.