Bobtail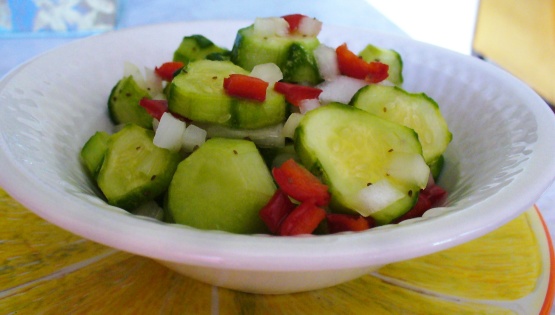 This recipe is from a former neighbor from another lifetime it seems like (24 years ago). I still see her infrequently, wish it was more often. This is easy and very good now that you can get homegrown cukes, which make a difference!!! However, it is great anytime of the year! Hope you enjoy!!! This is easily doubled, etc. Just adding that I have used red, yellow and orange bell peppers with great success, basically it depends on what I have on hand.

Not healthy. We didn't like this. I reduced the sugar like many other reviewers. It was a waste of organic apple cider vinegar, I used baby cucumbers, no green pepper, & sea salt plus the rest of the ingredients. The cucumbers became wilted. No encore.
Place all the prepared vegetables in a bowl.
Heat sugar and vinegar until sugar is dissolved.
Pour over vegetables and stir.
Add the remaining ingredients and stir till well mixed.
Chill for several hours.
Cook time is chill time.