When I first tried this, I made a pig of my self. I ate the whole bowl. My friend Wanda gave this recipe to me. Its a very good summer salad.
Directions
Slice the cucumbers, dice up the onion; put into small mixing bowl. Add the mayo and mix until all coated.
Add in the sugar, salt, pepper, and the dill; toss cover and put in refrigerator until chilled.
Reviews
Most Helpful
Great easy recipie! Especially on those hot summer days!!!!!
This is the best cucumber salad ever! I could eat it all by myself, but I usually have to fight others over it. I have made this as least 3 times before reviewing. The only bad thing I can say about it is that it doesn't keep, but will get watery if put away. But it's easy to eat this the same day it's made! Thanks for sharing this winner!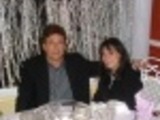 I was looking for a way to use some extra cucumbers from the garden. This is great recipe when eaten right away! I had my cucumbers in the fridge as a result we were able to enjoy the recipe right away. I ate half of the batch and packed the rest in my lunch for tomorrow. I will have to see how it is after it sits. I also used red onions which made for a wonderful combo. Thanks for the recipe.