teresas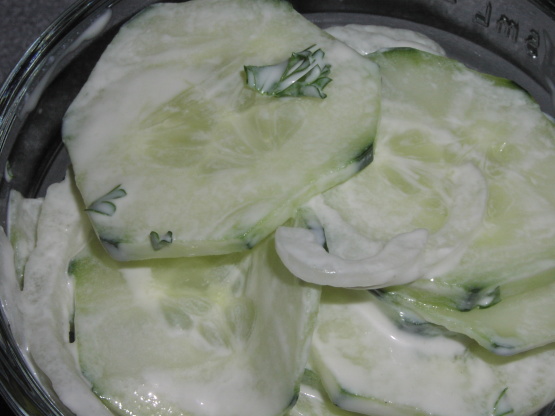 I have been making this for years and recently found out my grandfather loved this as well. A greek waitress taught me this recipe for the salad bar at our seafood restraunt in the 80's. It was an instant fave....

This is very easy and quite tasty, but seemed to be lacking something at first. After the addition of about a teaspoon dried dill it was perfect for our taste! I also salted and drained, then rinsed and drained the cucumbers before putting it all together so it wouldn't end up watery (I don't know that it would have, but that's what usually happens when I make any kind of cucumber salad with creamy dressing). Even the next day, the dressing was still creamy with no hit of too much liquid.
Slice onion thinly and place in bowl.
Peel skin off cucumber creating striped effect leaving part of the skin on and add to onions.
Add the rest of the ingredients to the vegetables and mix well.
You can eat immediately, but it is best chilled for an hour or so.