Debbwl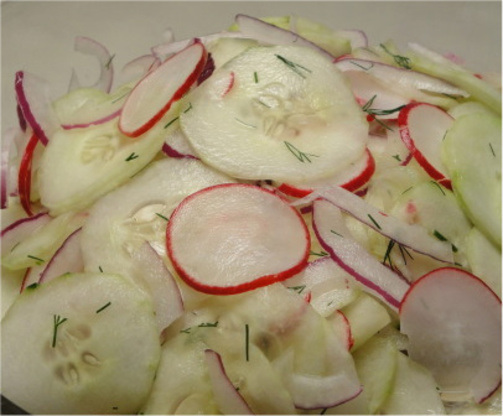 This is very refreshing, and great for a hot day. Fresh cucumbers and radishes out of the garden, can't ask for anything better.

This is a Good One! I'm curretly up to m ears n cukes from my garden and there are only so many ways to prepare them. Used my garden radishes as well. I actually doubled the dressing recipe. When the smoke cleared.......there was none left. I'll be making this one again for dinner tonight. Thanks!
Peel cucumbers.
Cut off and discard about 1 inch off ends.
Cut cucumbers into think slices.
Peel onion and cut into thin slices.
Thinly cut radishes.
Place cucumber, onion, and radish slices into a colander; sprinkle generously with salt and stir to distribute the salt evenly.
Let stand 40 minutes, until slices are limp.
Rinse well to remove the salt; drain and pat dry on paper towels.
Stir together vinegar and sugar in a large bowl.
Add the cucumbers, onions, radishes, and dill and a good grinding of fresh pepper and mix well.
Cover and chill for at least 1 hour before serving, stirring occasionally.