Cucumber,Radish, Carrot & Cheese Salad
Rita1652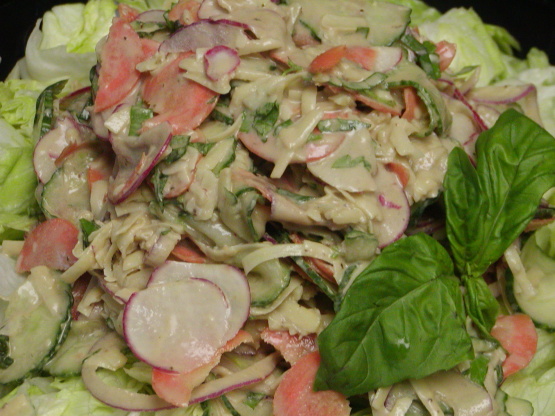 This is a very low fat, crunchy salad made with Lite cheese. Be sure to use a madoline to get these vegies sliced as thin as possible.The mustard and radishes give this salad a nice kick!

Had this today for lunch. To start with, I'm a huge radish fan and the combination of radishes with the other veggies plus the mildness of the Swiss cheese was a nice blend of flavors. Then the dressing--great! The tanginess from the vinegar & mustard, the soft celery taste of the celery seeds & the garlic (2 cloves)--mm-mm-mm-mm-mm! Another terrific concoction, Rita!
Toss dressing ingredients together in a bowl.
Place all salad ingredients into bowl toss, and chill for 1 hour and serve on a bed of greens.