Prep 30 mins
Cook 2 hrs 51 mins
Directions
Place cucumber in a blender or food processor; cover and process until smooth.
Place 3/4 cup of puree in a saucepan (discard remaining puree or save for another use.) Add sour cream, water, sugar, and salt to pan; heat to 120 to 130 degrees (mixture will appear separated). In a mixing bowl, combine 1 1/4 cups flour, yeast, chives and dill; add cucumber mixture. Beat on low speed just until moistened; beat on high for 3 minutes.
Add enough remaining flour to form a stiff dough.
Turn onto a floured surface; knead until smooth and elastic, about 6 to 8 minutes.
Place in a greased bowl, turning once to grease top.
Cover and let rise in a warm place until doubled about 1 hour.
Punch dough down; let rest 10 minutes.
Shape into 12 balls; place in a 13 x 9 x 2" baking pan that has been sprayed with nonstick cooking spray.
Cover and let rise until doubled, about 45 minutes.
Bake at 375 for 30 to 35 minutes or until golden brown.
Remove from pan and cool on a wire rack f! or 10 minutes.
Serve warm.
Most Helpful
These rolls were good! I, too, was looking for a way to use up cucumbers that didn't involve a salad. I had regular sour cream and a regular package of chives and they worked just fine. They were very tasty but didn't rise to a normal "fluffy" roll texture. We ended up eating them with the Potato-Mushroom Chowder (26739) and my dh is still raving about this meal. We found that you had to eat them quickly because they went hard within 2 - 3 days so seal tightly. Thanks for a wonderfully different recipe!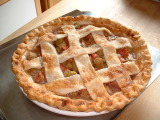 I have an a huge harvest of cucumbers this year so this is perfect for me. We all love them. I used bread machine yeast and as soon as I added the wet to the dry ingredients, I put it all in the bread machine on dough cycle. These rolls are a great conversation starter, too as no one has ever heard of cucumber rolls!
Very light and yummy... had this fantastic flavour and was wonderful with chowder!