Cucumber Mojito (Camelback Inn's Recipe)
Rita1652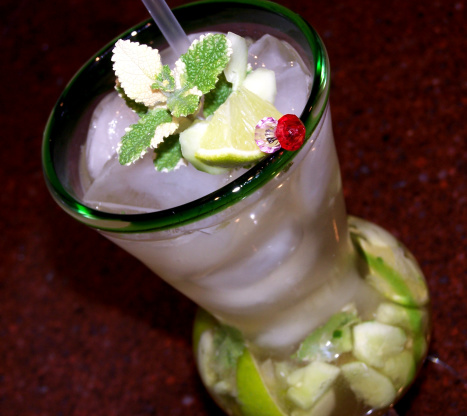 "Try this sunny Cucumber Mojito at Scottsdale's legendary Camelback Inn, which has made the AAA Five-Diamond list for 30 consecutive years. The drink is available at Sprout's, the spa restaurant." Found on www.cocktailatlas.com.

Yum! I am a lover of the real mojito. Making it with sugar not simple syrup which help the muddling. So using the brown sugar was a nice treat! I used almost a whole lime. When I went to our liquor locker I was amazed to find the rum all gone. So I used tequila resulting in a really wonderful drink! The last of the drink tasted like melon. Thanks! From the Queen of mojitos! book #127218
Muddle cucumber with lime wedges, mint, rum and sugar.
Fill glass with ice. Splash with Sierra mist.
Serve in a 12oz Hurricane glass. Garnish with Mint and cucumber slice.