Cucumber Melon Salad With Raspberry Vinegar
COOKGIRl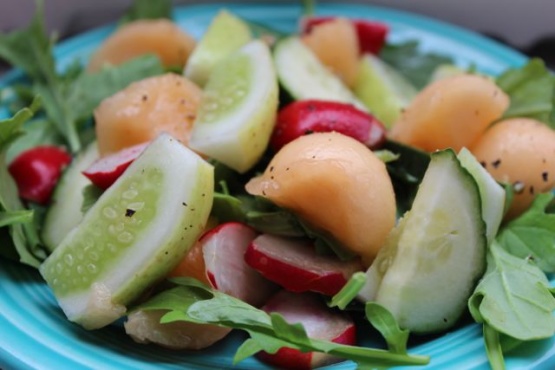 Cool, crisp and refreshing. I'm always on the lookout for healthy recipes with a twist of flavor. Obtained from the American Heart Association.

Easy! Colorful! Nutritious! We are savoring the last remnants of summer's harvest by
preparing the salad last night for dinner. I used a Charentais cantaloupe and both standard and lemon cucumbers. Most of the veggies were either from our CSA box or the local farmer's market. Served over baby spinach and baby arugula leaves. Simple goodness! My kind of salad recipe that's for sure. Use good quality vinegar because it plays a major role in the recipe. Reviewed for Veg Tag/October. Served alongside Andi's Recipe #333005 and Recipe #93429. Thank you for posting!
Partially peel the cucumber so it leaves stripes of dark green for color. Cut the cucumber into bite-size pieces and put in a medium bowl.
Cut the cantaloupe into cubes or use a melon baller. Add to the cucumber.
Thinly slice the radishes. Add to the melon and cucumber.
Toss the salad with the vinegar.
Sprinkle with pepper.
Refrigerate, covered, until chilled, about 30-60 minutes.
Serve on salad plate over lettuce leaves.