Parsley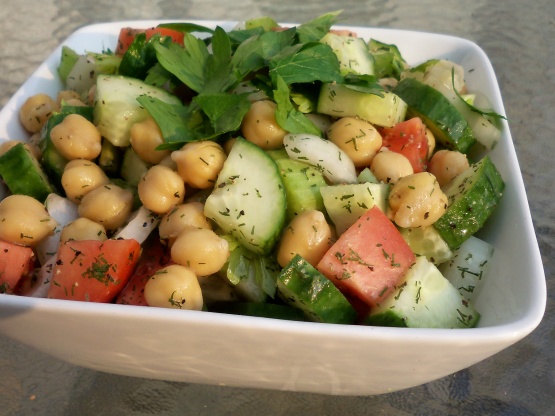 A found this online on an Egyptian Travel website -- looks like a nice summer salad. Time to make does not include chill time.

Cooked a big batch of garbanzo beans to make this and hummus later. Easy to make, cheap, filling and tasted good. Used red onion for color and fresh dill and parsley from the garden. I altered the ratio of vinegar to olive oil using 3 tablespoons red wine vinegar instead of 3 teaspoons. Best prepared at least several hours before planning to eat for best flavor. Served at room temp. Reviewed for ZWT 6.
Mix oil & vinegar well and set aside.
Combine all other ingredients and toss with the oil and vinegar mixture.
Chill before serving and garnish with fresh parsley, if desired.