Cucumber Avocado Soup Soupe Glacée à L'avocat
Rita1652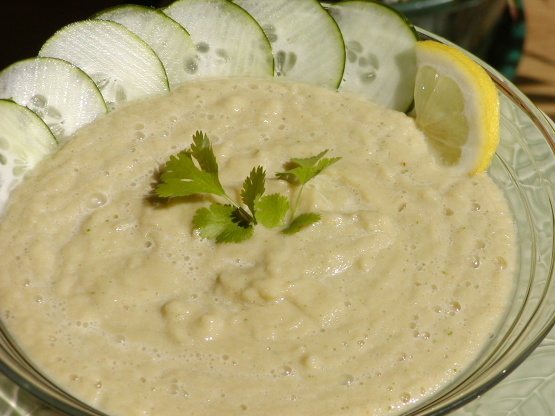 Cooling quick and easy. The avocado gives it a creamy feel without the fat or dairy. Nice for a Bridal brunch.

After reading the other reviews, I was totally unsure how this would turn out, but I did pretty much follow it on down! I did have a large avocado & ended up using about 2/3 of it! I'm not much of an avocado fan, however, so this was divided up among my other half, my son & DIL, & they loved it & wished I'd made more! Maybe next time I'll even try some of it! [Made & reviewed in the Special Event ~ Adopt a Veggie Tag!]
Blend all the ingredients in a food processor or blender and serve.