Cucumber and Cream Cheese Appetizers
Derf2440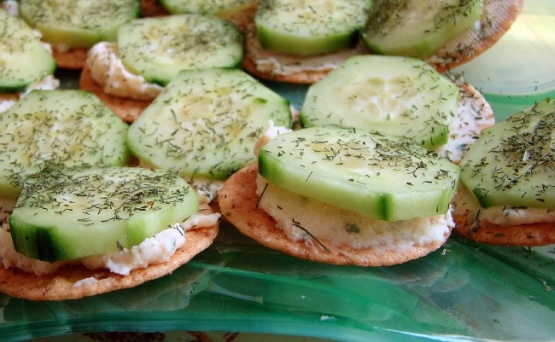 This is so quick and easy. People can't stop eating them.

I made these for a wedding reception this weekend and everyone raved over them! At the suggestion of a previous reviewer, I did as they suggested and didn't add the entire envelope of Italian dressing mix, only adding to suit my taste. Like you, I did score my English cuke, and I cut the rye bread in rounds, and added the dill to the top of each cuke slice. They were gone in a flash, and they wanted more, so next time I'll double the recipe, which by the way, was super easy. Thanks for sharing this delish little gem! 8/2/10 - Back again to say that this little appetizer is still a favorite with family and friends, except now I have to triple the recipe every time I make it, lol. Thanks again!
I wash and score the cucumber with a fork along the entire lenth of the cucumber, all the way around, to make a design Slice thinly and set aside.
Combine cream cheese, Good Seasonings Italian mix and Tabasco sauce.
Spread cream cheese mixture, generously on each slice of cocktail bread, place slice of cucumber and sprinkle the top with dill.