Cucumber and Chive Soup With Lemon and Dill
COOKGIRl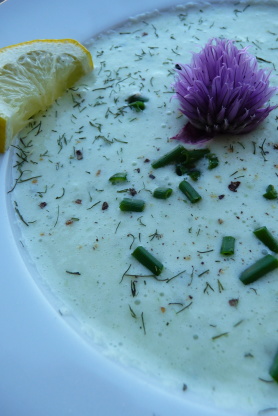 Quick and easy. Credit goes to Vegetarian Fast and Fancy by Renny Darling. This is a very simple and pure tasting soup. You may like to spice it up or vary the herbs with what you have on hand.

I had cucumbers from our CSA box and the perfect amount of soured milk for this recipe. Easy to make and it was prepared first thing in the morning for the flavors to marry and be well chilled for dinner. Fresh chives and blossoms from the herb garden; a dash of white pepper added to the mixture, Nancy's whole milk yogurt. Served with our main of poached eggs over caramelized onions and greens with pecorino romano, sliced roma tomatoes and grilled focaccia. Perfect. Reviewed for Veg Tag/June.
Peel and halve lengthwise the cucumbers.
Scoop out the seeds with a spoon.
Finely chop cucumbers and drain in a colander; squeeze out any excess liquid.
In a large bowl, stir together cucumbers with the next six ingredients until blended; puree with stick blender ( or put it all in a blender).
Refrigerate until serving time.
Serve in glass bowls with a dollop of yogurt and a sprinkle of chopped chives and parsley.