VickyJ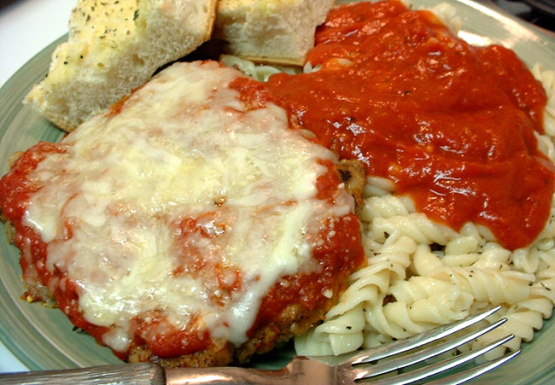 This recipe was adapted from one that came from Sarah Befort in Hays, Kansas, and was published in Taste of Home.

I thought I'd had all the parmigiana's there were but this one...........new, different and delicious! Cut the recipe in half for the 2 of us, but now wish I had made the whole thing......we could be having beef parmigiana on crusty, onion-garlic rolls for lunch today.......ah well, next time! Your directions were so good, step by step, would really be great for a beginning cook(I'm sending this recipe on to DD1). The next time I make this, I'm thinking of adding some sauteed onions and mushrooms between the cheese and the cube steak in step 11. Thanks so much for posting this---it is a great recipe!
Preheat oven to 375 degrees F; pan spray a 13x9x2-inch baking dish.
In a large shallow dish, combine the flour, salt, and pepper.
Crack the eggs into a small bowl, add the water, and beat well; pour into shallow dish.
In another bowl, combine the crushed crackers, 1/3 cup grated Parmesan, and 1/2 teaspoon basil; stir well, then pour into shallow dish.
Dredge each steak in the flour mixture, coating well, then in the eggs, then in the cracker mixture, gently patting the coating onto the meat.
Heat a large skillet over medium high heat, add the oil, and saute the coated steaks until browned, about 3 minutes per side.
Place the browned steaks in the sprayed baking dish and bake uncovered at 375 degrees F for 25 minutes (leave the oven on when done).
In a bowl combine the tomato sauce, brown sugar, onion, half of the oregano, remaining basil, and garlic.
Spoon tomato mixture over the steaks and return them to the oven to bake for an additional 10 minutes.
Top each steak with a generous slice of mozzarella, sprinkle with the freshly grated (shredded is good, too) Parmesan, and sprinkle with the remaining oregano.
Bake for about 3 minuntes until cheese are melted to your preference.
Serve with lightly buttered fettuccini or fettuccini Alfredo, a nice green salad, and garlic bread.