Cube Steak With Gravy and Potatoes (Ww)
teresas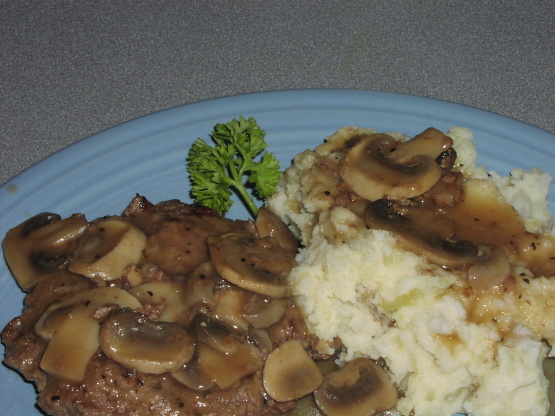 We enjoyed this -- comfort food -- and only 7 WW points. We served it with a pkg of frozen veggies. Recipe source: WW magazine (January 2010)

No one believed this was a WW recipe! So delicious, the potatoes tasted better than my usual milk and butter mashed potatoes, and the cube steak was perfect, the gravy smooth and flavorful and the mushrooms were nice as well. I made green peas with this, and the whole meal was 7 points a serving! Will make again and again!
In a pot bring water and potatoes to a boil; cover and simmer 10 minutes or until tender. Drain, reserving 1/2 cup liquid. Return potatoes to pan and add 1/4 tsp salt. Mash potatoes using 1/3 - 1/2 cup of the potato liquid.
In a measuring cup mix together broth and 2 tablespoons flour.
Coat steaks with remaining flour (2 TB), 1/4 tsp salt and the pepper.
Spray skillet with Pam and set over high heat. Add steaks and cook 2 minutes per side.
Stir in mushrooms and broth mixture; bring to a boil. Cover and simmer 20-30 minutes. Uncover and cook until gravy thickens.
Serve with mashed potatoes.