3 Reviews
I made this tonight for my meat-loving husband, who said it was quite delicious! It rates highly with me for being so easy to put together; I love that you can get fun, tropical flavor with everyday ingredients. Thanks for posting! Made for ZWT 9, Gourmet Goddesses.

Made for the Goddesses of ZWT-9, as written & using cube steaks. The meat was very flavorful & nearly fork-tender. The marinating process was fun to watch & I don't ever recall saying that. The combo of citrus fruits & spicing apparently begins the cooking in the same manner as a ceviche. This is a colorful, tasty & healthy dish that I served w/rice I stirred into the pan drippings w/the marinade. It gave the rice a lovely flavor & light caramel color. We liked this a lot. Thx for sharing the recipe w/us.

Delicious and easy (and colorful too)! What more could you ask for? I made this exactly as posted, though I have to say that my garlic did not smash up quite how I would have liked it to, so it really didn't form a proper paste. However, the flavor was wonderful. I used cube steaks, which is something I have not enjoyed in a long time. Thanks for sharing. Made by a Tasty Tester for ZWT9.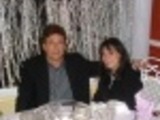 Cube Steak With Cuban Lime Mojo