loof751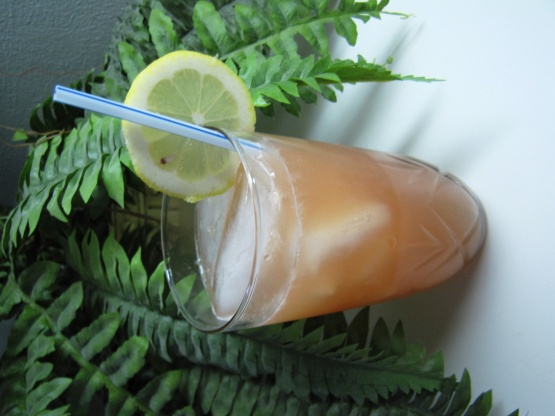 A 'coctel' in old Havana was a pre-dinner cocktail party with finger food and a variety of rum drinks. Bacardi white rum had its birth in Cuba, so it is a natural pairing with the nectar of the guava or 'guayaba', one of the most popular and most widely used fruits in the Cuban culture. From "The Florida Keys Cookbook" and posted for ZWT5.
1

(12 ounce) can frozen lemonade, thawed

2

(12 ounce) cans carbonated lemon-lime beverage (soda)

2

cups guava nectar

2

tablespoons grenadine

9

ounces bacardi white rum

3

thin lemon slices, seeded and cut in half
Place lemonade, soda, guava nectar, and grenadine in a large glass or plastic pitcher. Stir well to combine. Refrigerate until needed.
TO SERVE: Fill each of 6 tall glasses with ice. Add 1 1/2 ounces rum to each glass. Pour guava mixture evenly into each glass (about 3/4 cup). Garnish each glass with a half lemon slice.
NOTE: You can omit the rum and serve this drink as a tangy breakfast beverage.