SueVM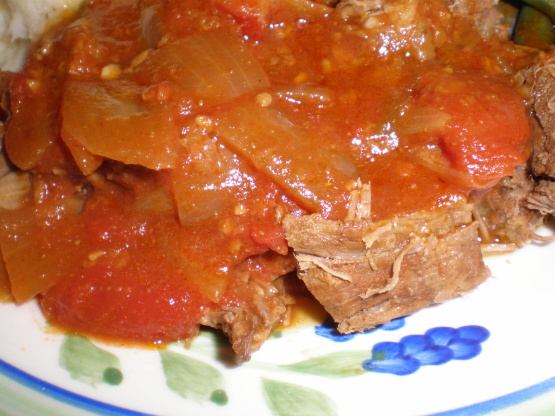 This super tasty and super easy pot roast is made in a slow cooker. This delicious recipe was found in the Southeast Parent magazine and is from Delores Kosteini.

This was excellent. I had a pot roast out to thaw for todays dinner and had planned on doing it in the crockpot anyway, when I came across this recipe. I have been loving cumin lately and figured it would be right up my alley. I ended up not using the flour nor the oil as I like the taste of seared meat. I omitted the wine as well since I am not so fond of cooking with the stuff. My roast was only about 2.5 lbs so we had a lot of sauce which was great since I served it over fettacini. I thought rice would have been more "Cuban" but I wanted the kids to like it since it was something new. They cleaned their plates! Thank you CarolAT for a definate keeper!
Combine the flour, 1 teaspoon cumin, salt and pepper in a shallow container or on wax paper. Roll beef in seasoned flour. Heat oil in a large nonstick skillet on medium; brown meat on all sides. Transfer meat to slow cooker, cover.
Meanwhile, in the same skillet, add onions and garlic and cook 4 minutes or until onion is softened. Stir in remaining cumin to coat onions and cook 1 minute. Add tomatoes and crush larger pieces. Bring to boil; stir in tomato paste, red wine and bay leaf. Bring to a simmer and stir. Pour mixture over beef. Cover and cook on low 8 hours; turn after 4 hours if possible.
Remove beef from sauce to platter and tent with foil. Turn cooker heat to high and cook 10 to 15 minutes to reduce sauce. Remove bay leaf. Slice meat and spoon some sauce over meat before serving.