Cuban Steak (Bistec Encebollado)
Debbwl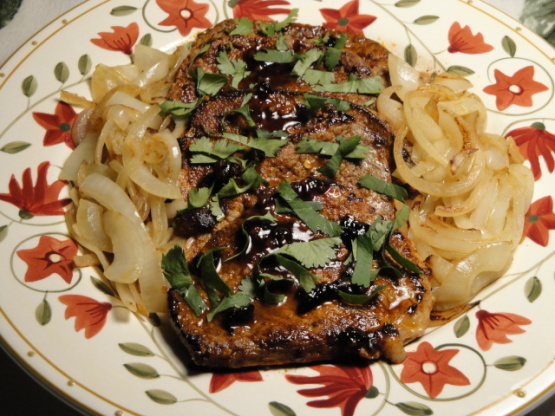 This recipe was found online icuban.com by Three Guys from Miami. This recipe adds a touch of lime and fresh cilantro to give the dish a Cuban flavor. This sounds like my kinda of steak!! Posting for ZWT.
Loved the flavor combinations - the lime, onion, adobo, garlic with the beef - YUM! I did find the lime to be a little sharp so added in a couple of tsps. of butter at the end to soften the edge. I also skipped pounding the steak. I made this for a night when I was dining solo, can't wait to make it for the rest of the family! Made for ZWT 9 Caribbean by one of Mike and the Appliance Killers.
Using a meat mallet, place the steaks between two pieces of wax paper and pound out to a thickness of 1/4 inch.
Heat a small amount of oil in a frying pan at low heat. Sauté onions briefly! They should still be slighty crisp. Remove onions.
Sprinkle each steak with Adobo seasoning and black pepper and rub into steaks. Sauté the garlic for one minute in a small amount of olive oil, . Add steaks and sauté to desired doneness in olive oil(or you could grill your steaks). Remove steaks. Deglaze the pan by adding the lime juice and continuing to heat, stirring constantly. Cook long enough to reduce (thicken) somewhat.
Cover each steak with the fried onions. Pour sauce over steaks and sprinkle with chopped cilantro.