Cuban Shrimp Casserole (Caserola De Camarones)
Glutton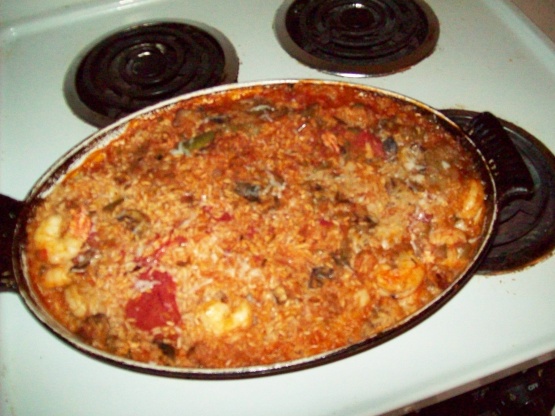 A Cuban-American friend of mine in Jersey City got this off of a website dedicated to Cuban cuisine....it's been a year since I made this, but intend to try it again, it was so delicious. You try it and let me know. It's more convenient to use cooked (not canned!) shrimp. You can also use half-crab and half-shrimp or lobster as well! Enjoy!

Top Review by moe13a
Very good & very easy.. Cheese is definitely needed. I added two other cheeses and it came out nicely. I added a little more cooked rice than suggested and also drained most of the tomato water before adding it to the pan. Could use a pinch of something but I don't know what but still very good.
Saute the onion, garlic and green pepper in the butter.
Add the shrimp, salt and pepper.
Stir in the canned tomatoes.
Add the cooked rice.
Place in casserole dish and bake at 375oF for 30 minutes.
If desired, sprinkle cheese on top.
Let cool for five minutes, then serve.