DanaPNY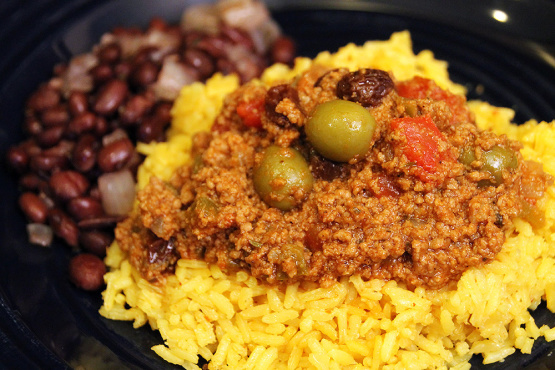 Wonderful Cuban recipe for one of the best meat dishes there is. I used to eat at this great mom and pop Cuban restaurant in my town and unfortunately they closed down. This was the closest I could get to their wonderful recipe !

Terrific recipe! After reading the comments, I decided to try both methods of browning the meat first and/or putting it in as is in order to contribute to the debate. This was easy since I was already dividing the batch because DH hates olives :) The meat that was cooked in the sauce had a better texture, and the flavor was also better (the sauce didn't reach all the way in to the browned meat). I used ground turkey, so even the one that I didn't brown and drain was not a bit greasy. I think this would work with any lean meat (12% fat or less). I will make this recipe again as directed, however I did add two tsp. of Mexican Oregano and one tsp. Smoked Spanish Paprika to the vegetables about one minute before they were done.
Mash the salt, pepper and garlic together in a mortar until well blended.
Lightly brown this mixture in the lard/oil with the pepper and the onions until the onions become translucent.
Add the tomato sauce and let it simmer for a minute.
Add the vinegar.
Add the meat and cook for 5-minutes.
Add the cooking wine, olives and raisins.
Simmer until liquid is absorbed (I usually let this simmer for around an hour or so on low, so the flavors meld together).
Serve with rice and beans and a nice cold beer.
Tastes even better the next day!