Redsie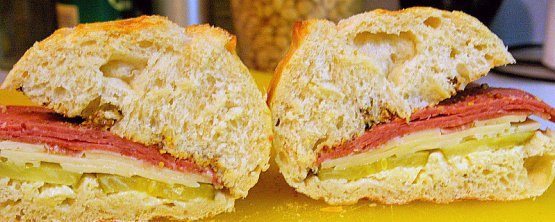 No, this is not the authentic Miami Cuban sandwich, but it is a fairly reasonable substitute for those of us who don't have quick access to real McCoy. Deli sliced meats make this a fast and filling sandwich.

never had a cubin with salami in it before, it made a nice change.
1

loaf Cuban bread (if not available, use a French or Italian loaf from the deli)
1⁄4 cup yellow mustard
1⁄3 cup mayonnaise

2

large dill pickles, thinly sliced lengthwise
1⁄2 lb swiss cheese, thinly sliced
3⁄4 lb ham, thinly sliced
1⁄2 lb pork roast, thinly sliced
1⁄3 lb genoa salami, thinly sliced

2

tablespoons butter, softened
Preheat sandwich press.
Cut bread in half lengthwise.
Spread inside top and bottom with mustard and mayonnaise.
On bottom half, layer pickle slices,Swiss cheese, ham, pork and salami.
Cover with top half of bread.
Cut the loaf into 4 equal sandwich portions.
Lightly butter top and bottom of each sandwich and press on the grill until the bread is crusty and the cheese is melted.
Slice in half diagonally and serve.
*** Note - if you don't have a panini press or a sandwich grill type appliance, just use 2 heavy skillets - 1 to cook in and the other on top of the sandwiches to press them down. I would suggest covering the bottom of the pressing-skillet with aluminum foil.