gailanng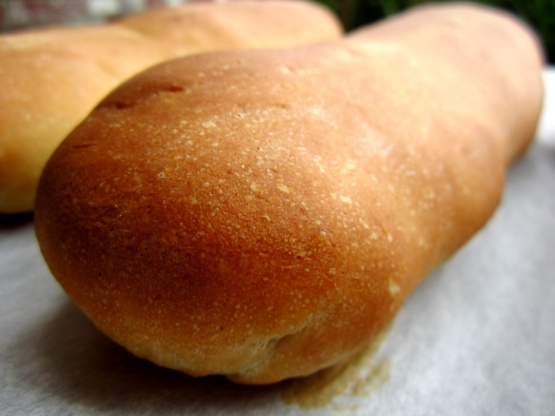 This is the best recipe I have ever tried for Cuban bread. I lived in Key West, FL for a time and could get bread fresh in the bakery. When I moved back to SD it was NO WHERE!!!! I had to make my own. I found this recipe on the King Arthur website and have used it ever since.
Living in Florida, we have cuban bread all the time and love it!! This is wonderful tasting bread and my 16 yo DS loved it!! He had his bread with olive oil and herb mixture and I had mine with butter. I made 1/2 of the recipe for 3 loaves, which compared to the bread we get here, these were 3 small loaves. Next time I would make it into two loaves or maybe even one loaf. Thanks for sharing a delicious bread recipe that I will be making again. Made for Potluck Tag.
Manual Method: In a large bowl, combine all of the ingredients and stir till the dough starts to leave the sides of the bowl. Transfer the dough to a lightly greased surface, oil your hands, and knead it for 6 to 8 minutes, or until it begins to become smooth and supple. Transfer the dough to a lightly greased bowl or dough-rising bucket, cover the bowl or bucket, and allow the dough to rise till puffy though not necessarily doubled in bulk, about 1 hour, depending on the warmth of your kitchen. Gently fold the dough in upon itself and turn it upside-down after 30 minutes; this "turn" helps eliminate some of the excess carbon dioxide and redistributes the yeast's food, both imperative for optimum yeast growth.
Mixer Method: Combine the ingredients as directed at left, using a flat beater paddle or beaters, then switch to the dough hook(s) and knead for 5 to 8 minutes. Transfer the dough to a lightly greased bowl or dough-rising bucket, cover the bowl or bucket, and allow the dough to rise, with a turn, as directed above.
Bread Machine Method: Place all of the ingredients into the pan of your machine, program the machine for Manual or Dough, and press Start. Examine the dough about 10 minutes before the end of the final kneading cycle, and adjust its consistency with additional water or flour as needed, to produce a smooth, supple dough. Allow the machine to complete its cycle.
Divide the dough into six pieces, and shape each piece into a rough log. Let the logs rest for 15 minutes, covered, then shape each piece into a smooth batard shape (a log about 8 inches long, slightly tapered at each end). Place the loaves on a parchment-lined or lightly greased baking sheet.
Let the loaves rise, covered, for 1 hour. Brush or spray them with water, and slash one long lengthwise slit down the middle of each loaf. Preheat the oven to 375°F while the loaves are rising. Bake the bread for about 30 minutes, or until it's golden brown. Remove it from the oven, and cool it on a rack. The loaves may be made one day in advance and stored at room temperature, or several weeks in advance and frozen.