Cuban Black Beans and Rice
gailanng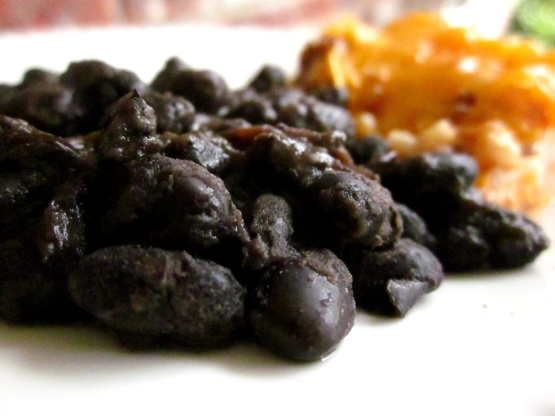 I can't remember where I got this recipe. The Cuban surgeon at the hospital where I worked said it was "almost as good" as his mother's!

Thanks so much for this recipe! When I was very small, I had a Cuban foster brother who stayed with us until the rest of his family could get out of Cuba. When his family made it to America, "Grandma" would make this dish and I fell in love with it! My mother recently passed and took this recipe with her. The only things I did differently is added cumin (MUST have), a tad bit of worcestershire, and no red wine vinegar (didn't have any). Also, Grandma used a hamhock instead of bacon. I used bacon (no hamhocks handy). Thanks again for a great recipe and a wonderful trip down memory lane.
In a large stockpot cover beans with water and boil for 2 minutes.
Remove from heat and let stand for one hour.
Drain water and cover with fresh water (6 cups).
In a skillet saute the onions, bell pepper and garlic in oil for 5 minutes, until tender.
Add onion mixture and all remaining ingredients, except the red wine vinegar, to the beans and bring to a boil.
Reduce heat to simmer covered for 2 hours, until beans are tender.
Add more water if necessary.
At the last minute add the red wine vinegar, just before serving.
Serve with 2 cups of cooked rice.
Top with chopped green onions, chopped hard boiled eggs or sour cream.