Kaarin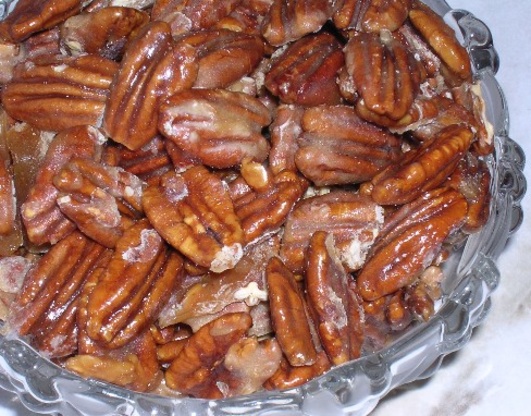 This is posted for the World Tour 2005 RecipeZaar event. I haven't tried it yet, but it's so quick and easy, has readily available ingredients, and looks so good, I might just make it before the day is out! The recipe comes from the Hadassah Jewish Holiday Cookbook - a collection of traditional recipes from contemporary kosher kitchen. It was listed in the Passover section.

these are quite good, and i don't even like orange flavorings
Butter a large cookie sheet (one that has sides).
Using a 2 quart glass baking dish, pour orange juice into sugar, and mix well. Stir in pecans. Cover with plastic wrap, but leave a corner open to vent.
Microwave on medium for 6 minutes. Stir and continue to cook on medium for about 4 - 6 more minutes until the syrup crystallizes (check after 4 minutes, and then each minute thereafter).
As soon as it's crystallized, spread glazed nuts on the buttered cookie sheet evenly, separating the nuts. Let it cool completely.