Crystallized Ginger - Yoghurt Pound Cake
chia2160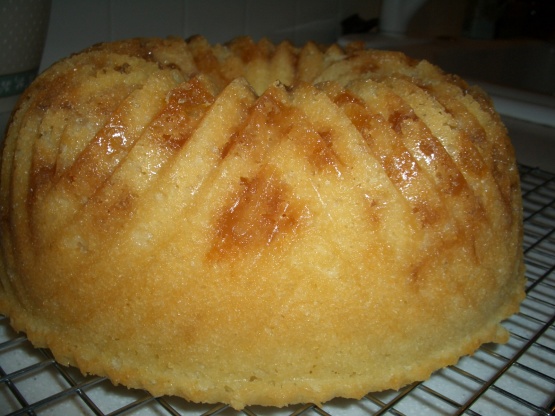 A great cake to have with coffee and tea. Very easy to make and tastes like you fussed. Dense and buttery with a gingery zing.

This has a lovely texture and is way more delicate in gingery flavour than you'd expect. It's delicious. For me, it would have been too sweet with those proportions, so I cut the sugar to 1 3/4 cups, and next time will cut it further to 1 1/2 cups. I cooked this in a fleximold. It was good you mentioned the oven temperature being low - I would have put it higher but left it at 300. You are right. It works. I used the thick Greek yoghurt and it makes a difference. Ordinary yoghurt would not give it the beautiful smooth texture.
Preheat oven to 300F (a low temperature, but it works); butter and flour a bundt pan (mine is no-stick but I still butter and flour it).
With mixer beat butter for a couple of minutes until white; add sugar and extracts and beat a few minutes longer (about 8-9 minutes in all); Add eggs, one at a time, beating after each addition; With mixer on low (to avoid getting flour dust all over the kitchen) add flour, baking powder and salt alternately with yoghurt; beat in ginger; this makes a very thick batter; Spoon into prepared bundt pan and bake for 75 minutes (but start checking with toothpick to see if it's done after an hour (temperatures vary from oven to oven).
Variations: I often use the 'base' recipe (omitting the ginger) and 'marble some of the batter with cocoa (add a tablespoonful or so of milk and 2 heaping tablespoonfuls of cocoa to 1/3 of the batter); or make a nut cake by stirring in 1 1/2 cups of the flour-dusted, toasted nuts of your choice (a sprinkle of freshly-grated nutmeg is great in this version); our current favourite is chocolate, chocolate/chip where I add 3 tablespoonfuls of cocoa to the batter (along with a couple of tablespoonfuls of milk - or buttermilk if you have it) and then stir in 1 1/2 cups of flour-dusted chocolate chips at the end, before spooning into pan.